Whether you're planning the ultimate Disney wedding at the happiest place on earth or you're looking to add a few subtle touches that only you will know are inspired by Disney, we've got tons of ideas for you!
Here are a few of our favorite ideas…
Of course, the easiest way to experience the magic of Disney is to host your wedding in one of the theme parks! Make sure to capture a fairy tale-worthy picture in front of the castle.
Mickey balloons add a whimsical touch to this sweet photo in front of the castle.
Give each guest a FastPass that leads to his or her table.
Name each of your tables after one of the theme park's most popular rides.
Use an autograph book — like what kids use to collect characters' signatures in the theme parks — as your guest book.
Include your favorite Disney characters in your photos!
Mouse ears make the perfect wedding-day accessories.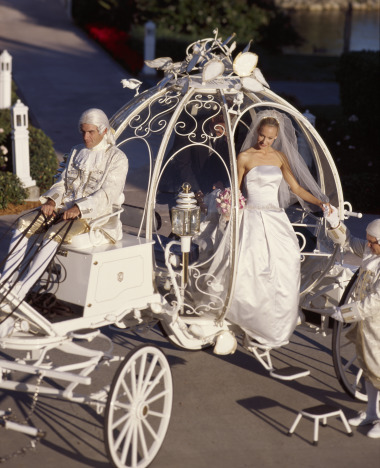 You'll feel like a princess departing from your ceremony in Cinderella's carriage.
Add a few pumpkins to your centerpiece for a more subtle nod toward Cinderella.
End your reception before the clock strikes 12, lest you turn back into a pumpkin.
Top your cake with Cinderella's glass slipper on a pillowy tier.
Re-create a scene from your favorite Disney movie for a memorable wedding photo — such as running down the steps a leaving behind a glass slipper.
Go under the sea for your wedding reception by hosting it in an aquarium.
Have your own "Kiss the Girl" moment on a boat.
Place a single rose at each table setting — reminiscent of Beauty and the Beast. Or, a rose under a dome creates the perfect centerpiece for a Beauty and the Beast-inspired fête.
Dress your tables with glamorous candelabras as a nod to Lumière.
Pay tribute to Mrs. Potts and Chip with a tea set centerpiece.
Light up the night with sky lanterns — like they do for Rapunzel on her birthday. 
Use Elsa's powers to make a one-of-a-kind ice bar.
Channel the sorcerer's apprentice scene from Fantasia by taking a photo near an impressive water fountain.
"Float" into your wedding, Mary Poppins-style with umbrellas!
An outdoor garden party is the perfect setting for an Alice in Wonderland-inspired wedding.
Tie your rings to a copy of the book that inspired your favorite Disney movie.
AND, of course, don't forget to kick-off your Disney themed wedding with a custom Disney Wedding Invitation! Ask us how to make  your magical Disney wedding invitations become a reality!